| | | | |
| --- | --- | --- | --- |
| The Ecological Crisis in Sri Lanka | | | |
Written by Dharmaseri Lankapeli
(By: Dharmasiri Lankapeli, NSSP, Sri Lanka. A paper contribution distributed during the 2nd Asian global justice School of the IIRE-Manila, August 2 to 21, 2010)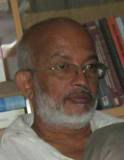 First of all the NSSP would like to make this an opportunity to express our sincere thanks to IIRE for inviting us to  take part in this seminar called "Facing the Global Challenges of the Ecological crisis: Defining Alternatives." 
All of us may know that all living beings including nature's highest creation - the man, are part of nature.
If I'm to talk about Working of Nature the whole scenario of it is as following:
We find the various major planets - the Sun, Moon and stars and the whole galaxies
We find the outer space- which we call air or atmosphere.
Then we find the plants living in a very symbiotic way - Big trees, Medium size trees, Plant bushes, various types of grasses.
Then we find the living beings - Birds of the air, Creeping animals, All insects, Men, Micro- organism.
Then we get rains, in relation to our countries we get both monsoons.
Finally, we have the earth and its soils which as the substratum absorb all these resources into its receptacle.
Ultimately, food is preferred by all living beings through the green leaves of the plant or trees.
Nature works in a cycle. The earth is the receptacle of all the nutrients; she receives from the sun, air, trees, monsoon rains and living beings including micro-organisms.
The nature of the operation of this cycle is birth, growth and death.
Man in his relationship with nature, if he violates this cycle process of nature, then he not only destroys nature but he destroys himself.
Now I would like to talk about the current situation of Ecological crisis in relation to Sri Lanka
A few decades back, due to the plantation industry established by the British Colonial government in Sri Lanka all the hill - country got destroyed and the presently named "green deserts" have been established.
We could see run - off water, Soil erosion, Land slide, Degradation of soil, Deforestation as results of such a process.
Even now this process of destruction and degradation of nature takes place in Sri Lanka due to many human activities.
The environmental hazards faced by Sri Lanka are due to two reasons. Firstly the neo liberal economic development programmes. Secondly the destructive war conducted against the Tamil Liberation Movement.
Mahinda regime used the war mobilization to suppress the opposition and to carry out the structural changes proposed by the World Bank/IMF; mega projects to improve the facilities to investors. These included the Super High Ways, New Airports, Harbours and Hotel Complexes All these were done in an unorganized manner with large numbers of people getting displaced.
The traditional ways of life changed for many without any real substitute. Agricultural land was abandoned and natural water ways were destroyed . People had to shift to other areas, while floods damaged many villages. Still these projects are not completed though the environmental hazards are abundant.
Fishermen were forced out of the major development areas. How ever, powerful elements are using unauthorized methods to over fish and damage the fish population in many areas.
In Hambantota wild elephants were chased out to give way to Air Port and Harbour development. But these animals were not provided alternate habitats with water facility. Wild elephants now roam around, killing villagers. On the other hand the elephants are massacred without any pity or mercy.
The development of water recourses in the upcountry has consumed important agricultural and plantation land. There is the danger of shifting and eventual breakdown of Dams. Many leaks have been identified. It is now accepted a large number of small tanks with 20 MW turbines would have given much better out come while protecting the environment. Coal power stations have come up with Indian intervention in a big way. Sri Lanka has its quota and India and China who have coal with impurities are eager to use our quota to sell their substandard coal. Already to make space for coal power stations the fishing communities have been shifted while peasants were given
compensation to shift .Dust will affect the Tamil areas in the future.

On the other hand the war effected the environment severely. Vast areas were demolished and all living things were killed or chased out. However, paddy fields    etc are completely crushed down. The damage done to communities and villages cannot be estimated. Tradition and culture with religious temples, kovils, and churches were destroyed. In many areas it will take many years before a proper cultivation pattern is created. Lots of money has been pumped to remove leg smashing pressure bombs Still it is not complete. Diseases have spread with no mercy. Dengue is everywhere. Lack of facilities and insufficient health staff have added to the problem of malnutrition. Handicapped people with children having neurosis are important problems that have developed with the breakdown of society and healthy environment.
Thus it is evident that we are in grave danger of losing our habitats due to our own faults. We may protect ourselves only by getting back production in industries as well as agriculture according to laws of Nature. Hence there is an immediate need of uniting as human beings in order to get control of such a severe crisis. There I would like to again thank you very much IIRE for organizing this seminar where we have been given a great opportunity to get together and discuss and find a way out of this degradation happening to our planet.
Thank you very much.
Donate to IIRE-Manila 8th AGJS
For Online Donations
Donations can also be deposited to this Account:
Account Number: 3120126300
Account Name:
International Institute for Research Education Manila Inc.
Bank Name: Banco de Oro (BDO)
Bank Address:
Iligan - Quezon Avenue Branch
SWIFT CODE: BNORPHMM
Who's Online
We have 76 guests online